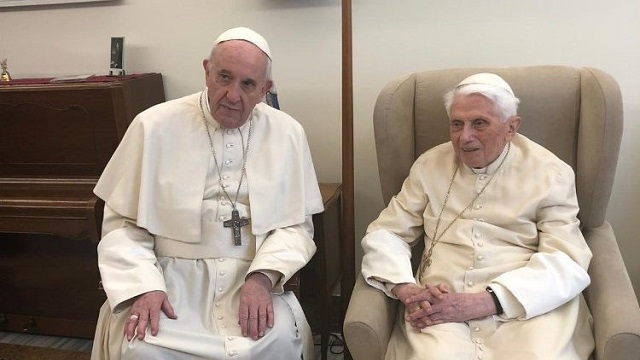 Image Credit: Vatican News. Visit of Pope Francis to Benedict XVI
According to Vatican Radio, the Department of Liturgical Celebrations of the Supreme Pontiff has notified the Holy Week ceremonies presided over by Pope Francis.

Palm Sunday

The Holy Week 2019 began on April 14, Palm Sunday and the Passion of the Lord and XXXIV World Youth Day. This year the WYD will have a diocesan celebration with the theme: "Behold the handmaid of the Lord. Let it be to me according to your word" (Lk 1:38). The Holy Mass was presided by Pope Francisco at 10 o'clock (5 o'clock in the morning, Brasília time) in St. Peter's Square, after the Blessing of Palm.
Holy Thursday

Following the schedule, on Holy Thursday, April 18, the Pontiff presides at the Vatican Basilica at 9:30 am (4:30 am, Brasília), the concelebration of the Holy Chrism Mass, together with the patriarchs, cardinals, archbishops, bishops and priests present in Rome.
Good Friday

Good Friday, April 19, celebration of the Passion of the Lord in St. Peter's Basilica. On this day, the Pope will preside at 5 pm (12 noon, Brasília) the Liturgy of the Word, the adoration of the Cross and the rite of communion. At 9:15 pm (1615 GMT), the Pope will go to the Colosseum for the Way of the Cross, at the end of which he will address some words to the faithful present and give the apostolic blessing.

Holy Saturday

On Holy Saturday, April 20, at 8:30 p.m. (Brasília), celebration of the great Paschal Vigil. In the atrium of the Basilica there will be the celebration of the Light, the blessing of fire and the preparation of the Easter candle. Following the procession to the altar of the Chair with the Easter candle accompanied by the song Exsultet. The Pontiff then presides over the Liturgy of the Word, the Baptismal Liturgy and the Eucharistic Liturgy.
Easter Sunday

Holy Week will conclude with the Holy Mass of Easter which is scheduled for Sunday, April 21, at 10:00 am (5:00 am, Brasília) in St Peter's Square. At the end of the celebration, from the balcony of the basilica, the Pope will make the blessing "Urbi et Orbi".
If you want to follow the celebrations of Pope Francis, know that all the celebrations will be transmitted by Vatican Radio, with comments in Portuguese. Keep an eye on schedules though!
Image Credit: Vatican News. Visit of Pope Francis to Benedict XVI

(Source: vaticannews.va)