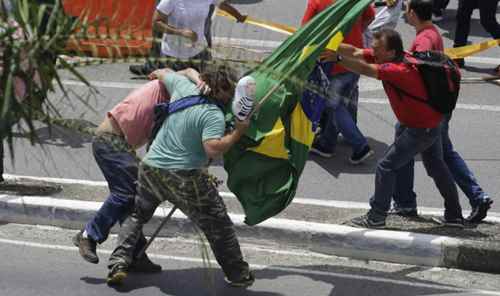 Image: Brazil: a divided country? | Reproduction The Cafezinho
The maxim that Brazil is an orderly, religious, and peaceful country has been falling to the ground since a campaign of defamation and hatred began in 2013.

Hate since then has only grown. Everyone knows how this campaign started: overthrowing the PT of the 2014 elections. Although the campaign failed at first, however, it was from the extreme right-wing defeat in the 2014 elections that these defamation and hate campaigns receded in the media "institutionalized" and social networks.

The rancor, the rancid, was not only in the ambit of the "washerwomen"! In the last five years bishops, priests, pastors have been seen to spread this hatred in their prophetic proclamations when they should preach peace, love, the word of Jesus. The auxiliary bishop of Aparecida (SP), Don Darci Nicioli, in 2016, suggested "killing" Lula in his homily. Although this bishop became a joke in social networks and removed from his functions in Aparecida, it was recorded in perverse minds.

Dilma Rousseff, in 2014, stated that "I do not affect labor rights, nor do cow cousins." It came to be called a cow by parliamentarians, who should be peacemakers of the legitimacy of a government, of the Laws of a country; not counting the idiots and imbeciles of social networks, the enemies of the homeland and an extreme Brazilian right who wanted at all costs to rip the Constitution and the CLT.

In the 2018 elections, PT sidelined two years ago, was still the object of hatred of the campaign to elect the new president. Hatred was so much that it divided families, drove away faithful from their churches, as priests campaigned openly for a candidate accused of being homophobic, of preaching hatred and with plans to end labor rights, social rights and social security. I witnessed people leaving the Church saying that they "really have to kill" these thugs. That is not what Jesus taught us!

Lula was persecuted by his political enemies, condemned by an extreme right ambitious by the power; they mocked the death of his wife Leticia; mocked the death of his brother Vavá and mocked the death of his grandson Arthur, who was only seven years old. The hatred started in 2013, propagated by the interests of American capital, has only increased, the end of it all nobody knows, but many tears, pain and suffering will permeate the lives of millions of Brazilians, as it already happens in other countries. around the world.

In the face of so much discord, hatred, rancor and rancidness, it is worth mentioning the German writer Johann Goethe who says tacitly: "If each of us swept the front of our place, the whole world would be clean." But instead we are helping dirty it.

---